19
Jan
Who needs presents when you have cinnamon rolls! On Christmas morning, my mom and I made cinnamon rolls from a simple brioche dough (recipe here). Instead of making brioche, we rolled the dough into a long rectangle, smeared it with butter, and covered it with cinnamon sugar.
Then we rolled the dough into a long tube, cut it into 12 rolls. We let them rest in a 9×13 inch pan for about 15 minutes and then baked according to the directions. Oh, and we added the zest of one large navel orange to the dough along with the egg yolks.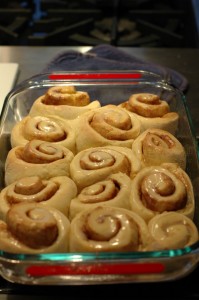 Then we took the juice of the orange and whisked it with confectioners sugar to make a glaze – which was poured over the rolls while they were still warm (but not hot). Mmmmm!!!!!