11
Apr
Well, at least my little brother and my family! My brother and sister-in-law are Cherry Coke addicts, as am I! So when I found this recipe I knew I had to make it for his birthday.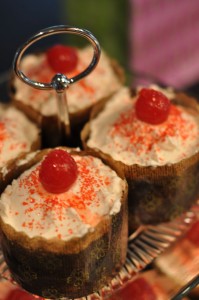 I tweaked it some, though, feeling that it needed to be more cherry-ish. I used Cherry Coke instead of regular Coke – I mean, they are Cherry Coke cupcakes! – and upped the maraschino cherry juice to a couple teaspoons instead of just 1/4 teaspoon. For the cocoa powder I used a combination of regular and dark chocolate. The cake – and maybe this is from the Coke? – was really moist and chocolatey. But I confess it didn't really taste like Coke. The cherry flavor was noticeable, though. Each cupcake is supposed to get four to five maraschino cherries stuffed into it, but I limited that to two apiece. Four to five just seemed like too many. Next time (and there will definitely be a next time!) I might do three …
The frosting is simply whipped cream, so these are almost like Cherry Coke float cupcakes! I added a couple teaspoons of maraschino cherry juice to the whipping cream as well. It turned a lovely shade of pink, perhaps not terribly manly but nice for spring. And it tasted really good. The bowl and beaters were licked clean! Once frosted, each cake gets a cherry on top, and for extra birthday flair, I sprinkled them with red edible glitter. YUM!