Jan
28
My friend turned the big 3-0 today! And I had the honor of making her cake. She requested carrot cake with a buttercream frosting. I found a great recipe by Alton Brown (of Good Eats fame) and proceeded to make the cake. But when I took it out of the oven, I realized it was way too small to for the importance of the event! 🙂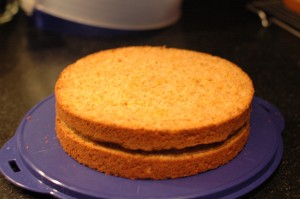 So I quickly made a second one (luckily I had enough of everything to make it). Admittedly as a four-layer cake it was rather imposing!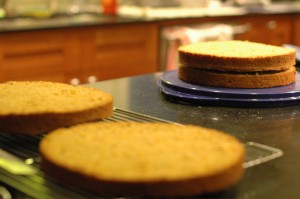 While the second cake cooled I made the vanilla buttercream and planned my decorations. The buttercream is simply butter – lots of butter – confectioner's sugar, a little heavy whipping cream, and a vanilla bean.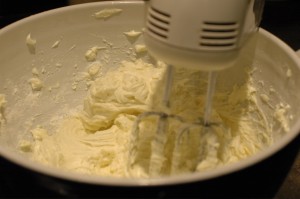 I decided to pipe carrots onto the cake and reserved some of the buttercream to color orange and green (carrots and leaves). I had a little extra orange and green, so I decorated the bottom edge of the cake as well.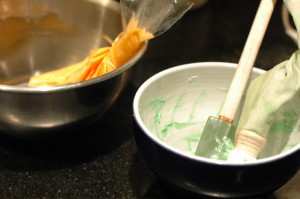 The end result was pretty impressive, and one of the tallest and heaviest cakes I've ever made!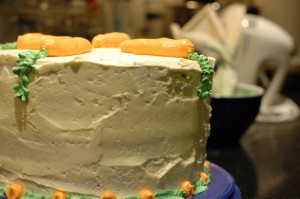 HAPPY BIRTHDAY RHIA!!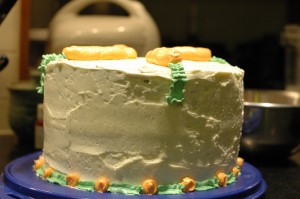 2 Comments for "Happy birthday Rhia!"
Rhia says:
28 January 2009 , 11:49 pm

OMG Jill that was amazing!! Thank you so much for doing that. Four layers — I don't think another cake will ever stand up to that level of awesomeness.

RedHeadBaker says:
28 January 2009 , 11:57 pm

So glad you liked it 🙂

Wonder what I'll have to do to top that next year???